Limiting a property's vacancy time is critical when it comes to earning rental income and long term investment returns. It's important to get your home rented as quickly as possible, and a good property management company will have a number of strategies in place to ensure your home does not sit empty on the market for very long.
Proper Pricing
Pricing your home correctly will impact the amount of time it spends on the market. If your property is competitively priced, you should have a number of highly qualified tenants applying to live there. A comparative market analysis will help you determine the fair market value for your home. This will depend on the size of the property, the location and its condition. Once you have a reliable rental range, you can price your home accordingly and rent it out quickly.
Rent Ready
The property has to look ready for tenants to move in. First impressions are very important, so make sure the house has great curb appeal. Keep the lawn mowed and the bushes trimmed. Make sure the exterior paint is fresh and all clutter or debris has been cleared from the outside spaces. Inside, the home should be deeply cleaned by a professional. The appliances should shine and the bathroom sinks and tubs should be spotless. Walk through the house before putting it on the market to be sure everything works. Change light bulbs, check window locks and test the appliances.
Strategic Marketing
Renting your home out quickly means having a targeted marketing plan. Nearly all tenants are beginning their search online, so your property needs to be advertised in all the places they are looking. Take high quality, detailed photographs of your home to go with the written ad, and then get it as much exposure as possible. It should be on the Multiple Listing Service (MLS) and popular sites like Zillow.com and Trulia.com.
Be Available and Responsive
Once you begin to receive inquiries about the property, make sure you respond immediately. Your house is not going to rent quickly if you wait too long to return phone calls and emails. Be available to schedule showings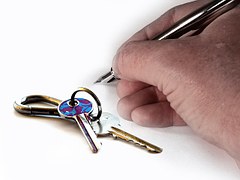 and spend some time pre-screening the parties over the phone. Ask why they're moving and what they're looking for. If you aren't able to respond right away, those tenants will move on to another property swiftly. If you need any help renting your property out quickly, please contact us at ARMI Property Management, and we'd be happy to tell you more.